La Jolla Cove & Kelp Beds, La Jolla Shores (Marine Room & Canyon), La Jolla Pinnacles, Scripps Canyon, and P-38
50° to 58°F / 10° to 14°C
7mm wetsuit or drysuit + hood, booties, gloves
Year-round
⭐️ Best: late fall & winter 
Boat and shore, depending on dive site
Green Sea Turtle, Giant Sea Bass, Tope Shark, Leopard Shark, Sevengill Shark, Horn Shark, California Sea Lion, Harbor Seal, California Two-Spot Octopus, Banded Guitarfish, Bat Ray
What is La Jolla diving like?
La Jolla diving is diverse and offers mostly everything special about San Diego scuba diving:
Kelp Forests - also found in the

Point Loma

area
Sea Lions - main attraction at the

Coronado Islands

Canyon/Walls - similar structures to Point Loma sea cliffs
Wreck - plane remains outside of

Wreck Alley
First established in 1971, La Jolla's Matlahuayl State Marine Reserve is one of several San Diego Marine Protected Areas and has long been considered an area of special conservation eyes.
Throughout the year, different species of fish and shark migrate to the La Jolla canyons and kelp forests, mostly to mate and birth. To us, this translates into fun animal encounters year-round.
On the flip side, La Jolla's accessible dive sites may include lenghty walks, long kick-outs, and visual diver impact.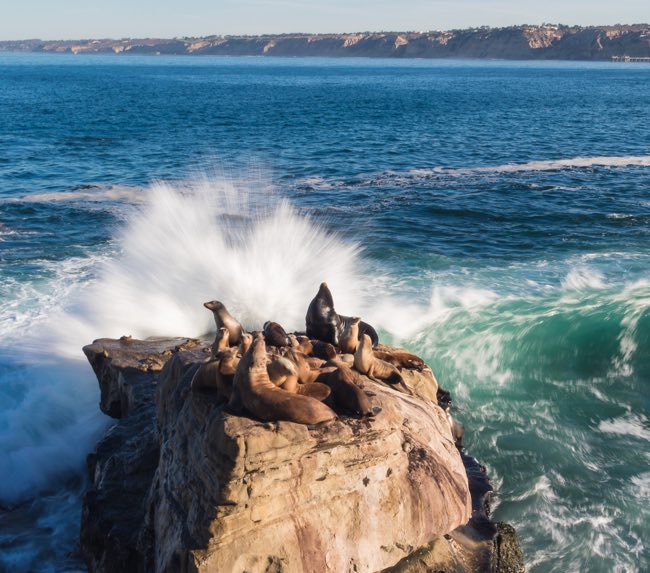 Where can you dive in La Jolla ?
Mostly anywhere from the iconic seal-pupping grounds of Children's Pool to the Scripps Canyon. Most of these sites are accessible by shore, ranging from average to extreme physical activity levels.
If you're looking to try La Jolla diving by shore on your own, we recommend grabbing a copy of a Franko's La Jolla Shores map and reading through some detailed entry guidelines at the Divebums blog.
What marine life calls La Jolla home?
La Jolla's varied terrain of canyons, kelp beds, reefs, and sandy flats host some of the most unique animal migrations in Southern California.
Divers will most likely encounter the usual SoCal suspects such as garibaldi, blacksmiths, sheephead, lobster, halfmoon and rockfish.
Get lucky or dive La Jolla often enough and you'll increase your chances of running into schooling sharks, sea lions, sea turtles, bait balls, and giant sea basses.
If you're a shark diver, chances are high you'll see a sevengill shark or two in a spring La Jolla diving session.
If lobster diving is your thing, a dive between the two La Jolla reserve areas might bear some fresh seafood dinners.
Now if you're a night diver, you'll likely to witness evening animal events like the squid run, creeping octopuses, or feeding angel shark.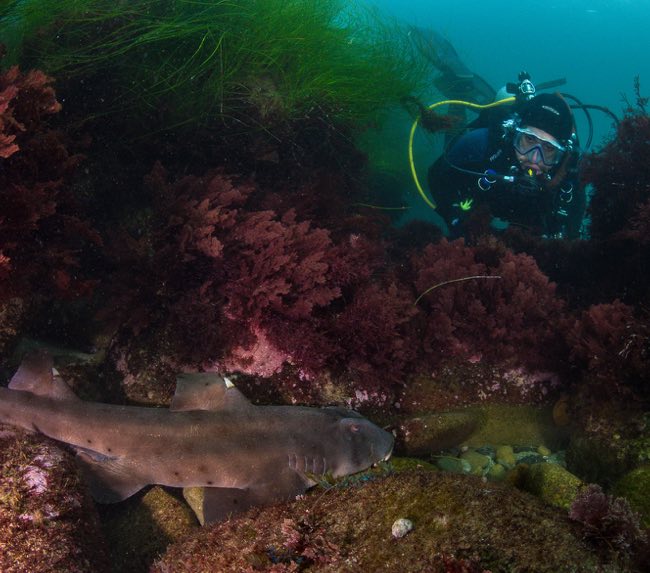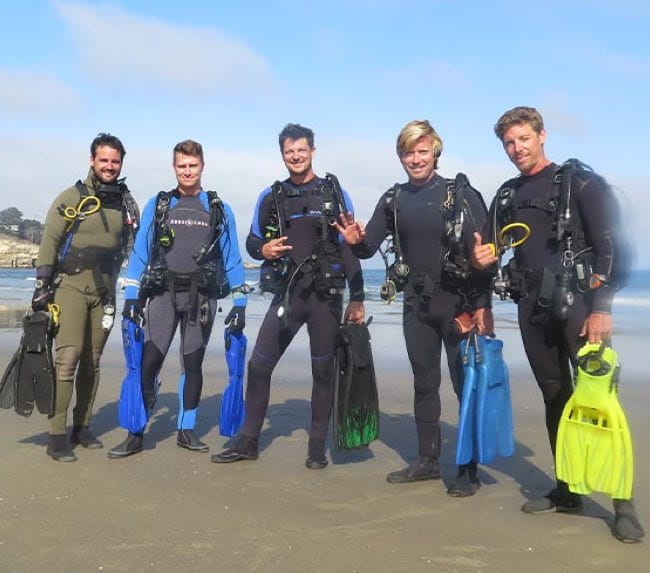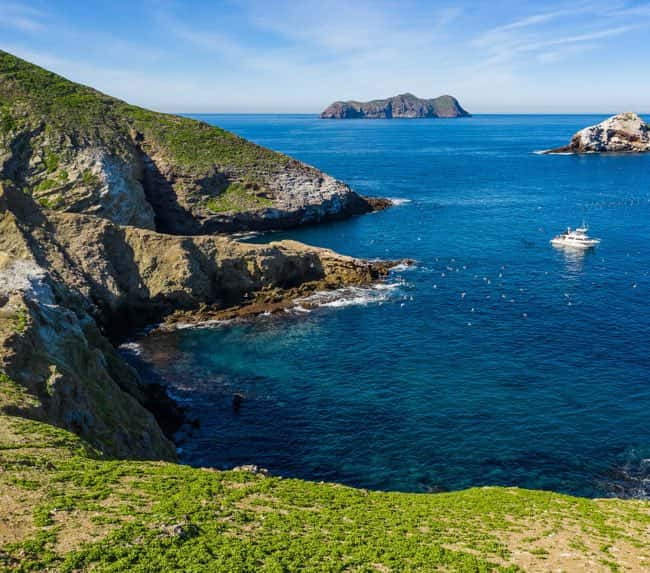 Should I dive La Jolla by shore or boat?
For traveling divers, it might seem like La Jolla diving is the best (if not the only) option in San Diego. A quick Google search on 'San Diego scuba diving' will generate more mentions of La Jolla diving than all other dive sites combined.
Because the rest of dive sites in San Diego are only accessible by boat and because there are only two local dive charter companies (us being one of them), everyone else just talks about La Jolla.
Now most local divers will admit it: La Jolla diving by shore is not for everyone. The lengthy walks and surface swims make most entries and exits strenuous. Most divers are physically able to do it, but the majority prefers the comforts of a boat dive.
That being said, shore diving in La Jolla is not only possible, it's done every day, by many divers. If you're on a budget or can't find a boat trip that meets your availability, this can be your best bet to dive in San Diego.
Just keep in mind it can be a challenging but rewarding workout. You'll own yourself a greasy meal after that!
La Jolla Cove & Kelp Beds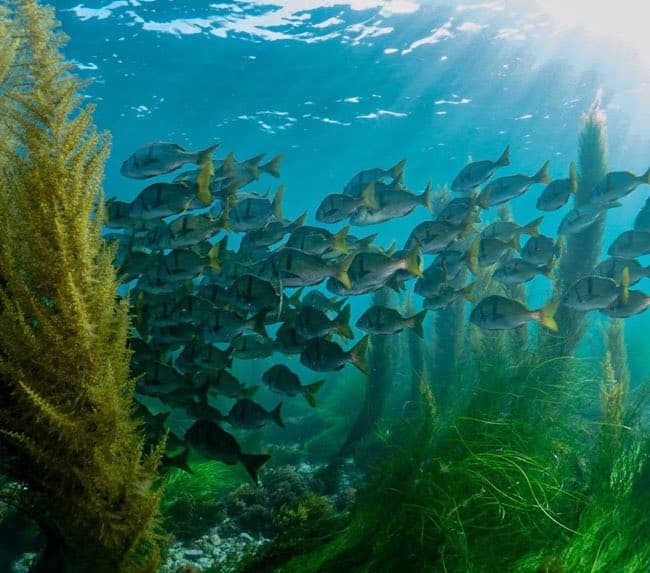 La Jolla Cove attracts daily flocks of tourists looking to catch a glimpse of resting and barking sea lions. What most sightseers don't see, however, is the underwater world of rich rocky ledges right under their cameras.
This rocky reef ecosystem contains shallow grass beds full of garibaldi, opaleye and halfmoon. The cove area is quite expansive so you could dive here many times before fully knowing the site.
There are ledges, rock piles, sand channels and even a cave to explore. The local sea lion colony can be very active in the early mornings, especially the juveniles, so plan your dives early for the best experience.
Outside of La Jolla Cove lies a healthy, yet dainty, stand of California giant kelp, known for large animal sightings, including sea lions, giant sea bass, and even the occasional sevengill shark.
This dive site begins near the sea wall and extends east to a depth of about 50 ft, with several small ledges in between large rocks and boulders. The kelp gives much needed protection from large winter swells and provides a home to many species of whelk, abalone, lobster, sea stars, and other bottom-dwelling sea life.
In the midwater column, blacksmiths, senoritas, and even the occasional yellowtail swim cautiously through the kelp. When the seas are calm, this shallow kelp dive is teaming with life of all shapes and varieties.
La Jolla Pinnacles (God's Rock, T-Rock, Quast Rock)
Outside of La Jolla Cove lies a set of three main pinnacles, all along the same ridge and separated by several hundred yards each. Although the top of these pinnacles may rise to 30-40 ft from the surface, these dive sites can be up to 90 ft where the rocks meet the sea floor.
Because they sit so far outside of La Jolla Point, they receive more nutrient rich currents, causing fish of all varieties to call this area home. At each of these sites, the main pinnacle is pock-marked with holes and ledges where currents have found a way through the rocks.
As you descend further down the pinnacles, there are areas covered with strawberry anemones, large gorgonians, and other invertebrate life. Deeper, the area turns to rocky rubble with numerous areas for moray eels and octopus to hide.
These sites all have their own flare and contain some of the more unique rock formations in the La Jolla area. They are also a hit with macro photographers due large quantities of nudibranchs.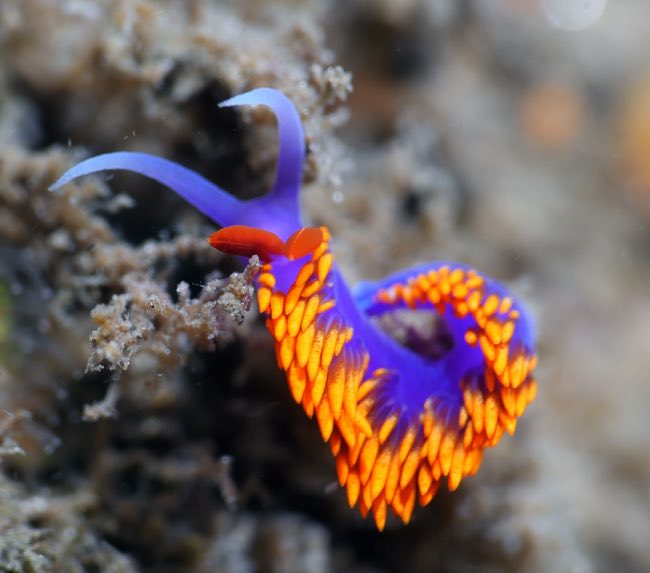 La Jolla Shores (Marine Room & Canyon)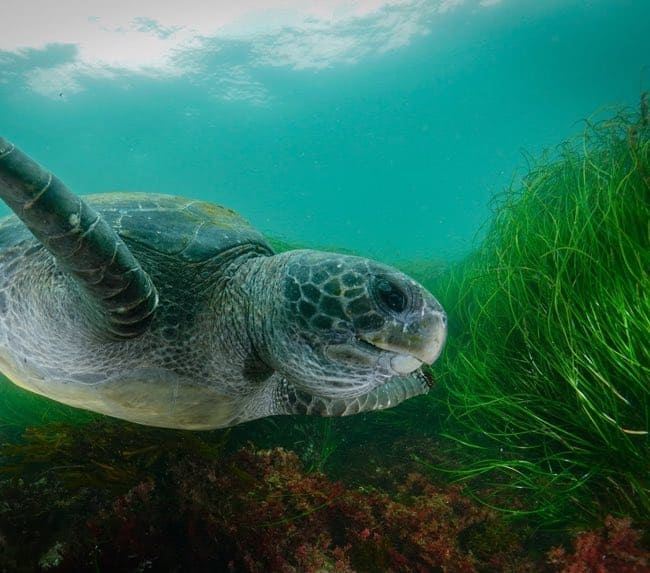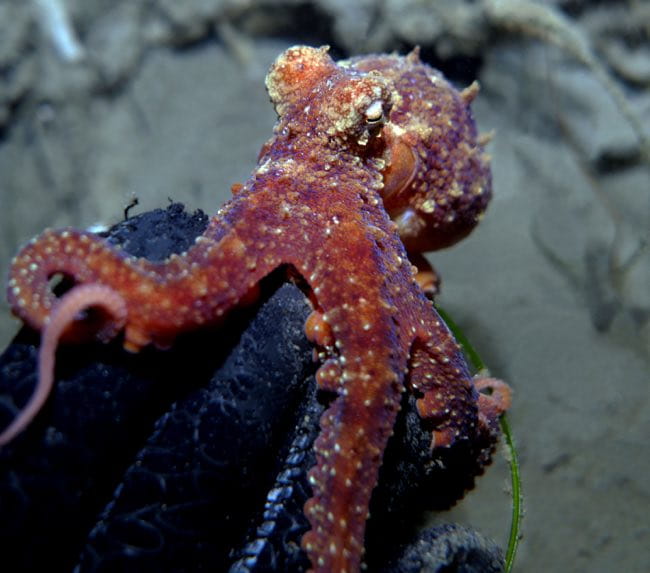 Yet another San Diego bucket list beach, La Jolla Shores is the popular launchpad for sea cave kayak tours and dive classes. Two main scuba diving areas branch off of this beach: Marine Room and La Jolla Canyon.
Located at the southern end of La Jolla Shores, the Marine Room is a grassy shallow reef is home to a colorful plethora of marine life. When diving La Jolla Shores, be ready to spot horn shark, spiny lobster, garibaldi, calico bass, and a sea turtle or harbor seal if you're lucky.
This is also a popular site to snorkel with leopard sharks during the summer season.
About 100 yards out from La Jolla Shores lies a deep submarine canyon known as the La Jolla Canyon. This site ranges from the edge of the wall at 35 ft down to 130 ft, the recreational maximum depth, although the gradually sloping wall continues to over 600 ft.
This wall is quite silty and is filled with holes inhabited with a variety of life, most notably invertebrates such as octopus and nudibranchs.
The sandy shallows in between the canyon and the beach hold chance encounters to see baitballs, leopard sharks, and even the rare gray whale.
Because of the night-dueling marine life inhabiting this site, La Jolla Canyon is one of the local favorites for night dives.
Just to the North of the famed Scripps Pier, associated with the Scripps Institute of Oceanography, lies Scripps Canyon.
Similar in some ways to the La Jolla Canyon, this particular dive site boasts sheer vertical walls on both sides of the narrow dive site. Upon dropping in, divers will make their way down the sloping sand bank until they encounter a steep wall around 70 feet deep.
From there, if the visibility is good, both sides of the canyon can be seen, with several stair stepping ledges filled with spiny lobster. This is one of the few dive sites in this area where divers occasionally find swell sharks nestled in some of the numerous holes eroded out of the sediment walls.
Since the canyon continues for several hundred feet, divers must maintain excellent buoyancy control to avoid descending past their training limits.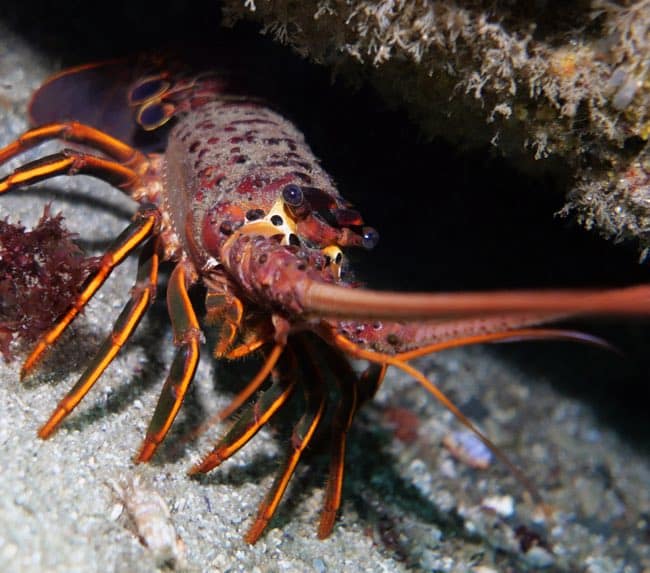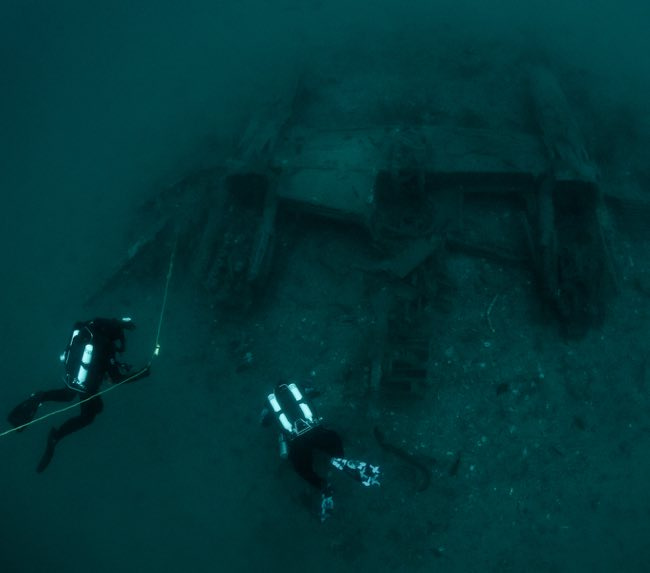 The plane wreck of a P-38 Lightning adds another unique adventure to our San Diego dive sites. Located in 130 ft of water off Torrey Pines, this plane has become a busy intersection for fish species traveling along the California coast.
Upon descent, you can spot the twin-tailed hull and, as you get closer, the cockpit and two engine blocks are apparent as well. Most of the aluminum hull is covered with strawberry anemones and divers have even reported wolf eels here.
Although it's a short dive, right at the edge of recreational limits, divers can usually circle the craft a few times before beginning their ascent.
You'll love diving in La Jolla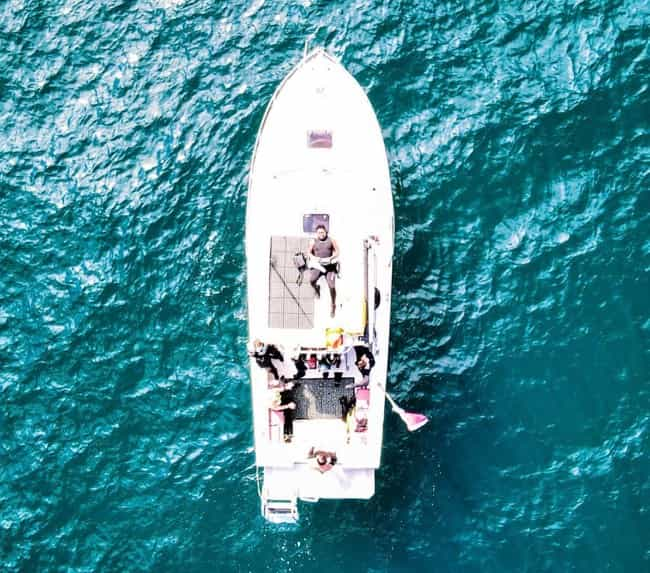 Our dock is 45 minutes away from La Jolla and our two dive boats make weekly trips to these popular dive sites, especially during sevengill shark season (spring). We'll take you there.
You might also want to dive: