6 Fathoms, New Hope Rock, Horsehead Reef, Dino Head, and Train Wheels (all part of the southern San Diego kelp forest stretch)
52° to 58°F / 11° to 14°C
7mm wetsuit or drysuit + hood, booties, gloves
Year-round
⭐️ Best: late fall & winter 
Boat only (private or commercial)
 Sevengill Shark, Giant Sea Bass, California Spiny Lobster, California Moray, Horn Shark, California Giant Kelp, Harbor Seal, California Sea Lion, California Sheephead, Garibaldi
What is Point Loma diving like?
Point Loma, often overshadowed by La Jolla's popularity and Wreck Alley's hype, is San Diego kelp forest paradise. 
A prized San Diego scuba diving gem, this area teems with sea life and kelp forests. Here's what you'll find while diving in Point Loma, in a nutshell:
Kelp Forests - a healthier stretch when compared to La Jolla kelp forest
Canyon/Walls - sometimes a short swim from nearby kelp lines
Wreck-ish - a random set of wrecked train wheels lying on a canyon
San Diego kelp forest map (Point Loma)
Where can you dive in Point Loma?
Point Loma dive sites are generally separated into two main areas, with some overlap between them: Kelp Beds and Sea Cliffs.
At the northern end of Point Loma lies the main area of the San Diego kelp forest (locally referred to as 'Kelp Beds'), a combination of shallow sandy bottoms, rocky ledges, and giant kelp and sea palm clusters.
This gradually slopping 6-mile stretch of San Diego kelp forest has so many unique dive sites, one could dive here their entire life and not get bored.
The Sea Cliffs, at the southern end of Point Loma, tend to be deeper dive sites along underwater walls.
These cliffs, formed during the last ice age, were dug out by thousands of years of wave action and used to be out of the water. 
Now a diver's paradise, slot canyons, large overhangs, and other dramatic features awe even the most seasoned divers.
What marine life calls Point Loma home?
The combination of rocky bottoms, ocean currents, and the protection of kelp forests has formed the ideal environment for life to flourish in Point Loma.
Divers often encounter horn sharks, moray eels, sea stars, octopus, and spiny lobster hiding amongst the rocky structure.
Macro photographers will have their hands full, with over 20 species of nudibranchs in the area and loads of other small creatures to find and photograph.
Up above in the kelp canopy, larger creatures such as sevengill sharks, giant sea bass, schooling blacksmiths, and even yellowtail can all be found in Point Loma.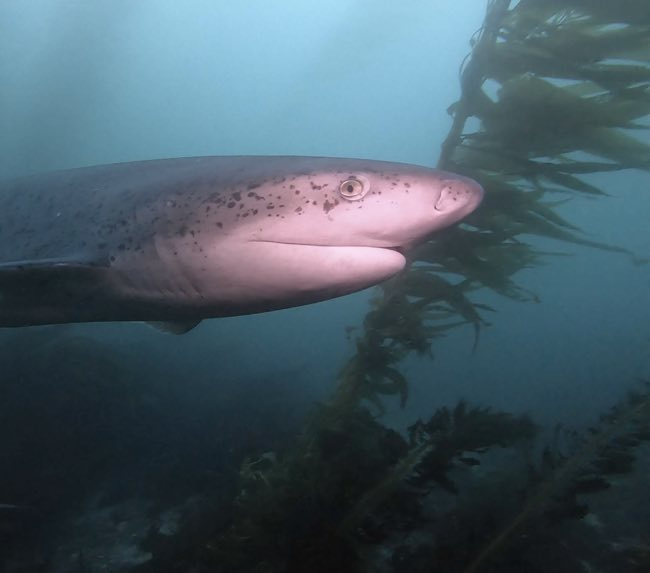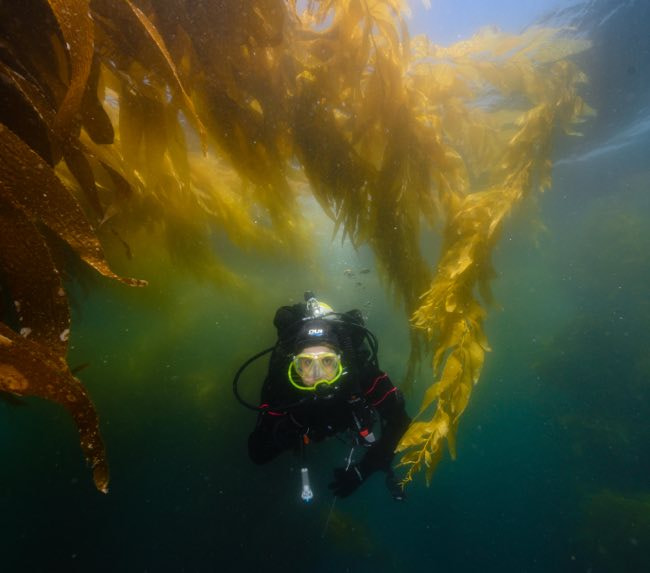 Point Loma is known for having one of the largest and healthiest kelp forest extensions of the whole Southern California coastline.
The luscious kelp canopies tower over big boulders, overhangs, ledges, and cracks, creating the perfect environment for a diversity of marine life to call home.
For dive boats, spot specific trips are hard to pin down due to dive conditions and boat traffic. Notable spots include 6 Fathoms, New Hope Rock, Horsehead Reef, Goal Posts, Broomtail Reef, NRAD, and North/South Pipe.
At the north end of Point Loma Kelp Beds, this area has some of the densest sections of San Diego kelp forest.
Underwater, about 0.5 mile from shore, a large flat portion of the rocky bottom abruptly ends in a 5 ft (1.5 m) tall ledge running north to south. All along this ledge, ocean life thrives.
Divers can encounter lobsters, horn sharks and other bottom-dwelling creatures hiding amongst the rocks. If you venture East underneath the kelp forest canopy, you may even encounter a giant sea bass or sevengill shark cruising around.
We consider this our "house reef" as this is a relatively easy dive, with the chance of seeing most of the creatures found on the San Diego coast. It's a local favorite!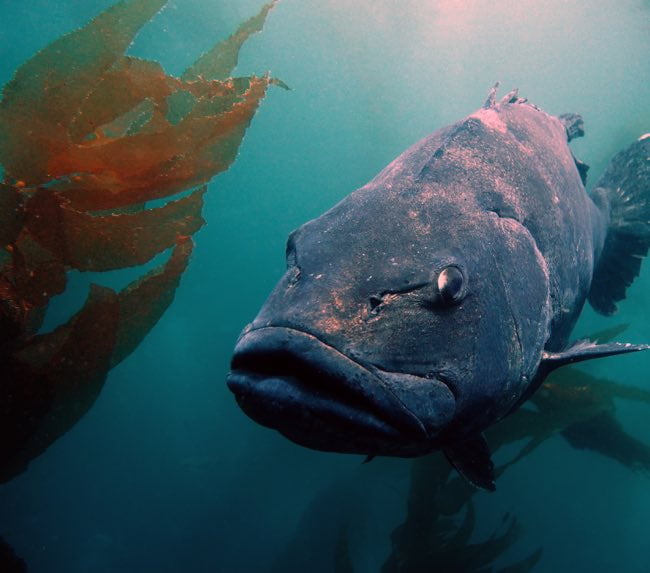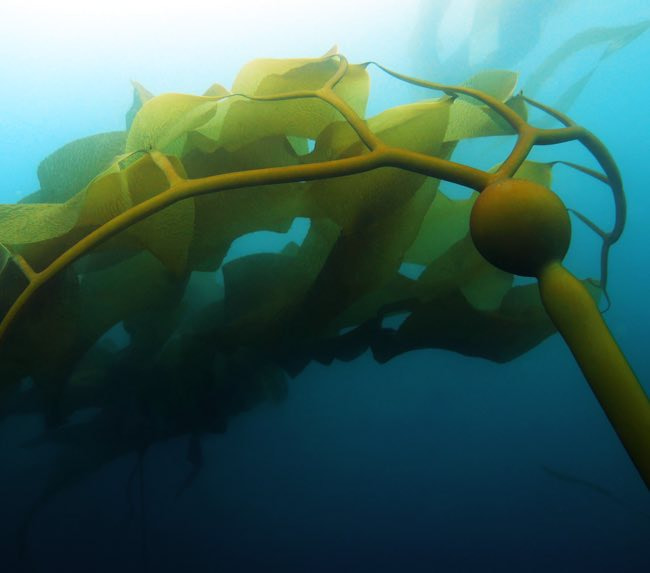 Possibly the shallowest dive site in Point Loma Kelp Beds, this rock is home to a large density of fish and other sea life.
Excellent for those new to California diving, New Hope Rock rises up from the seabed, in 35 ft (11 m) of water, putting the top of the structure only 10 ft (3 m) from the surface.
The main rock is surrounded by sea palms on all sides, except for a few cracks and crevices. If you still have plenty of air, there is a second rock pinnacle near the main structure to explore.
Several holes and an overhang have been carved out of the rocks by ocean currents, now lined by anemones and other invertebrates. If you make your way along the bottom of the rock, you will most likely find lobsters, octopus, and even scorpionfish.
This shallow kelp bed dive site is a hit with macro photographers, with nudibranchs galore and tons of other small critters to find.
At this section of the rocky reef, a rock protrudes off of the bottom in the shape of a horse's head, hence the name of this dive site.
The main rock is surrounded by other small or medium rocky protrusions, laced with plenty of ledges and holes for lobster, octopus, moray eels, and other reef creatures to find a home.
It is recommended to take it slow and pay close attention to the boulders, as camouflage creatures like scorpionfish or kelpfish could be right in front of you!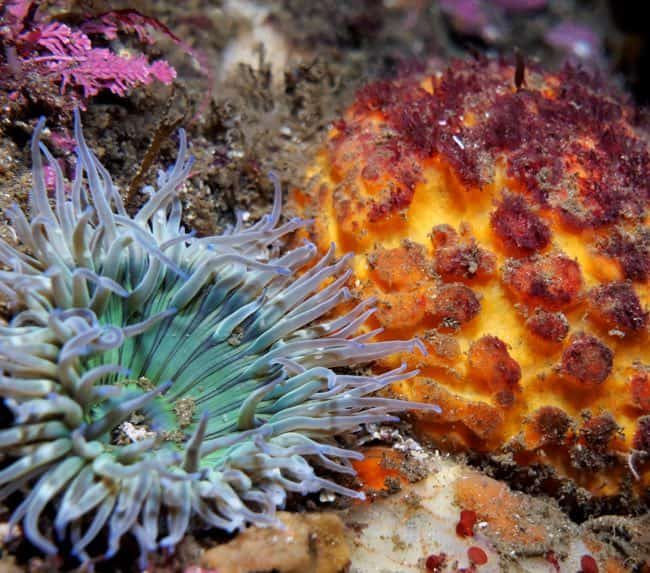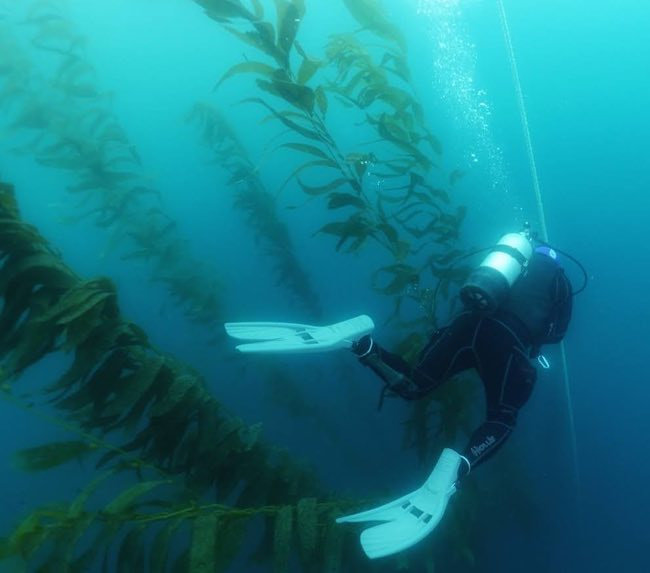 During the last ice age, when the sea level was 100 ft lower, the Sea Cliffs were battered and carved by relentless waves and tides. Nowadays, these cliffs lie between 65 ft and 110 ft underwater.
As with Point Loma Kelp Beds, boat trips are kept to a general area. Some of the notable spots within the area include Dino Head, Train Wheels, Three Fingers, and Main Wall.
What makes Dino Head one of San Diego's most iconic dive sites is a large pinnacle rising of the sea cliff in the shape of a T-Rex head, looking out over the dive site. 
Similar to other sites along the sea cliffs, the top of the wall sits at 65 ft and descends to the sandy sea floor at 100 ft. This dinosaur head sits to the East, up a wide sand channel running toward shore.
But don't forget to check out the holes and ledges on your way there! These ridges are home to more nudibranchs than we care to count.
Divers have a wide range of structures to explore at different depths of this dive site, so dive planning is key.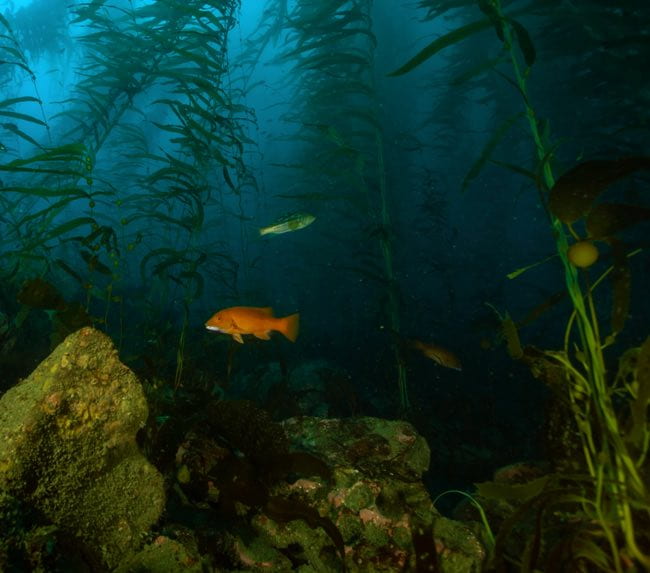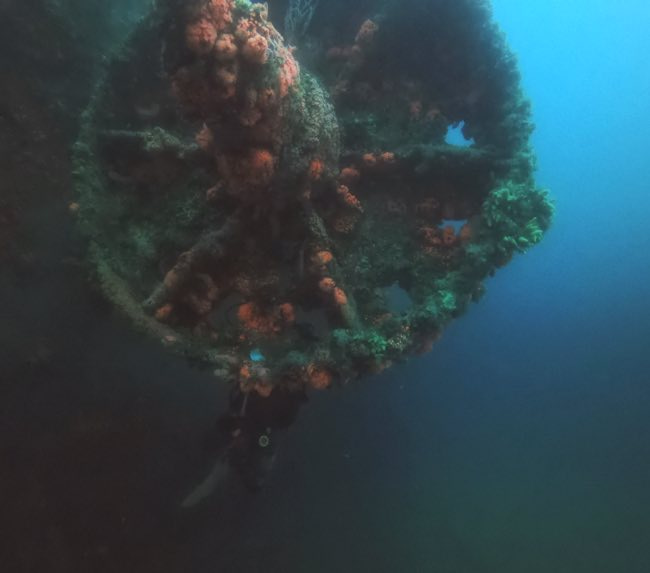 Very close to the southern tip of Point Loma, the shelf quickly ends and a wall drops from 65 ft down to 100 ft.
Lying in one of these slot canyons, around 100 ft down, are two full-sized sets of train wheels, now confined to this canyon by prevailing currents. This canyon, known as "the crack" is wide enough for several divers at its base, but slowly narrows near the top of the canyon wall.
Now you may be asking yourself, "How did train wheels end up in a canyon almost a mile offshore?"
Although no one knows exactly how these train wheels got here, there is some speculation they were used as part of a NAVY exercise, or possibly for ballast on a smaller cargo ship. Either way, this site is one of the most unique dives in the Sea Cliffs area. 
Other Point Loma Dive Sites
Other notable dive sites south of Point Loma and towards the Mexican border include:
USS Hogan shipwreck (not part of Wreck Alley)
Missile Tower wreck (not part of Wreck Alley)
S-37 submarine wreck (not part of Wreck Alley)
We don't usually venture out to these sites as they're all past recreational diving limits.
You'll love Point Loma diving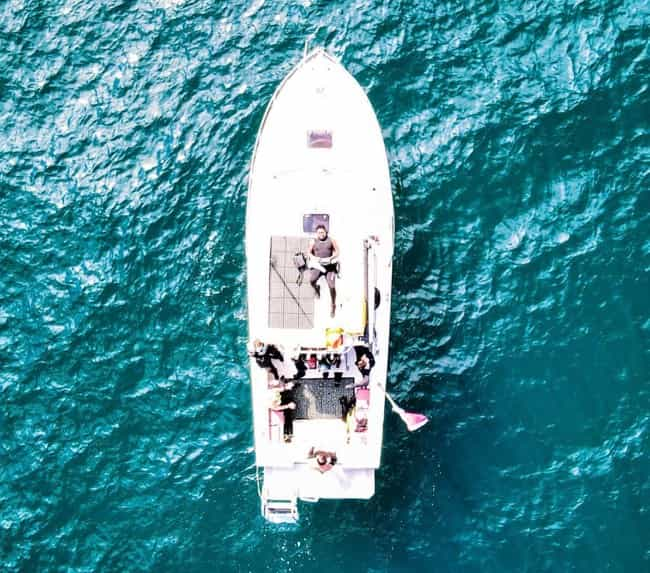 Our dock is 45 minutes away from Point Loma and our two dive boats make weekly trips to these popular dive sites. We'll take you there.
You might also want to dive: