You're not meant to be bored...
We understand what it feels like to be so busy and overwhelmed that having fun is always the last item on your to-do list.
We too have faced the fear of not having enough exciting moments to look back when our time comes.
But here's something else we know very very well…
"You were not born into this world just to be another brick in the wall."
You're here to be a badass at the things you love.
You're here to experience freedom.
You're here to be one with nature.
You're here to have yourself a real good time!
And that's exactly where Waterhorse Charters comes in.
We take workweek hustlers like yourself on boat charters and tours for a well-deserved break. And along the way, we like to make sure you feel safe, entertained, and cared for.
Your safety and fun are the priority
Waterhorse Charters has been operating in San Diego since 2006.
Over its first decade, the founding fathers were responsible for establishing safety, courtesy, and easygoingness as our core philosophies.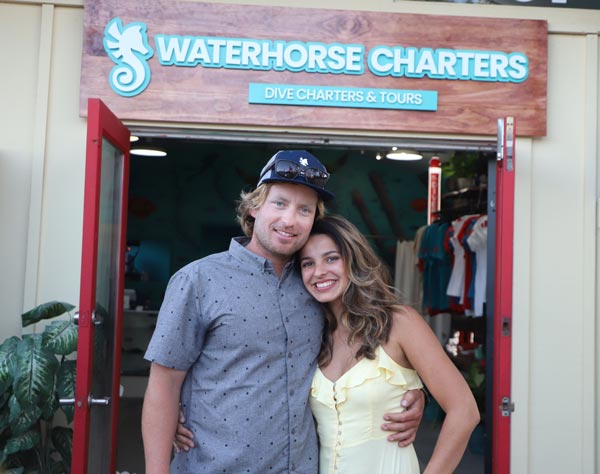 As husband and wife young-preneurs looking for a socially-conscious business to spread our love for nature and adventure, we purchased the operation in 2018.
We promised each other we'd take its respected legacy to the next level, with a fresh twist of millennial innovation.
"We work day and night to bring you the easiness, friendliness, and security we ourselves look for in other charter businesses."
We're lucky to have served 2,700+ divers and adventurers, 40+ dive members, and 30+ dive shops & clubs that have nothing but positive feedback to share:
And yes, we run this business just like we run our lives: in the most entertaining way possible. We have no space for grouchy faces, rude comments, or judgment of any kind.
Seamen are not supposed to be jerks
The crewmember grump is not just a bad rep. We've had our fair share of self-righteous staff who didn't pay attention to our challenges when we needed the most.
But the thing is…
"You shouldn't be intimidated by a know-it-all shouting at you, especially in your leisure time."
That's why we carefully hand-pick our crewmembers to take care of you the same way they would if you were part of their family.
Our caring crew family
Zachary Weisman
Chief Captain Officer
Kyle
Vanmeter
The teacher
Shane
Wiese
Customer-Turned-Crew
Jon
Schmidtt
The Yukon Master
Paul
Antonopoulos
The rocketman
Karina Weisman
Chief Smile Officer
Charlie
Pellow
The party captain
Charles Hobson
The first crew
Haline del Bem
The party planner
Lee
Davis Jr.
The sweet Captain
Corey
Soens
Your Best Friend
Danilo sansalone
El aventurero
Frankie
Grant
The photographer
Hanna
Bobst
The MakeItHappener
Boats are not tuna cans...
Have you ever signed up for an adventure thinking you'd have the time of your life to just find yourself being herded along the whole time? Yeah, us too.
Something we personally condemn in other tour operations around the world are cramped "cattle-boats", where comfort and individualities are completely put aside.
"After lots of fine-tuning, we've dialed the key numbers to make a profitable livelihood without compromising the spaciousness of our boats."
Our two boats, Humboldt and Camarão, are local celebrities and the stars of our operation, mostly because of their space, amenities, and ease of entry/exit.
"If you're looking for a charter, this is your boat. Booking online is easy and, if you bring your own tank, they fill it before you leave."
Sit back & relax...
Knowing you could have chosen many other businesses to spend your free time with, we don't take your choice lightly.
We want to make sure you have all the info and guarantees you need to be certain that you made the right choice.
Here's our "Rest-Easy Warranty" to you:
"PEOPLE OVER PROFIT" POLICY
Safety and integrity come first. Our already flexible booking policy includes a clause that allows us to "look at customers' issues individually to accommodate them as best as we can; even when we need to contradict this policy in order to do so."
"JERK-FREE" MONEY BACK GUARANTEE
We were dead-serious about our crewmembers bein trained to delete any rudeness from their repertoire. If at any point in time, you feel like our crew disrespected or embarrassed you, we encourage you to request a full refund.
"SAFETY IS EVERYONE'S BUSINESS" COMMITMENT
To join any of our adventures, customers are required to commit to a risk-free environment. That means you and everyone around you will pledge to not be reckless, not put anyone's life in danger, and be proactive in pointing out any potential dangers.
Your choice counts...
We not here just to make a difference in your life, but also in the life of our oceans. Here's how you can help:
WASTE FREE BOAT
Bring your water bottle. All single-use disposable plastic has been banned from our boats in 2019. We have assigned metal mugs and sporks for everyone on board, but a water bottle can come in handy when you want to have soup and water at the same time.*
*Temporarily suspended because... COVID-19.
SEA BIN
Get yourself a T-shirt or some Waterhorse Charters schwag on your way out. 10% of our merchandise revenue is destined to install and maintain Sea Bins in our dock to collect plastic and other debris from Mission Bay waters.
SEAGRASS GROW
Add a small contribution of $1 to your online booking and offset the carbon footprint of your adventure. At the end of each month, we match the total collected and donate the funds to Ocean Foundation's SeaGrass Grow program.