PLAN YOUR ESCAPE TO THE UNDERWATER WORLD
From world-famous Wreck Alley to the giant kelp forests, scuba diving San Diego will surprise you with sea life you won't find in the tropics.
GET THERE, FAST
With a prime spot in the heart of Mission Bay, we'll get you to and from the dive sites in a heartbeat, so you can spend time enjoying what you really came here to do.
WRECK ALLEY
(15 min from our shop, 4 to 5-hour trips)
HMCS Yukon

Ruby E.

NOSC Tower
KELP BEDS
(30 min from our shop, 5 to 6-hour trips)
Point Loma Sea Cliffs

Point Loma Kelp Beds

La Jolla Cove
EXTENDED TRIPS
(45 min from our shop, 5 to 7-hour trips)
Train Wheels

Scripps Canyon
CORONADO ISLANDS
(1 hr 40 min from our shop, 9-hour trips )
Lobster Shack

Middle Grounds

Keyhole
"Boarding was simple and pleasant, crew was spectacular and super friendly, boat was one of the best day boats I've been on."
| Dive sites | 2-TANK | 3-TANK |
| --- | --- | --- |
| Wreck Alley | $119 | $145 |
| Kelp Beds | $129 | $155 |
| Extended Trips | $139 | - |
| Coronado Isl. | - | $199 |
Rates in USD are per diver, per trip, and don't include 4% processing fees.
| Options | Prices |
| --- | --- |
| Rental Gear | $50/full set |
| Nitrox Tanks | $15/tank |
| Tour Guide | $120 - $200 |
Individual gear items can be rented for less. Tour guide prices vary based on group size and dive sites.

"If you're looking for a charter, this is your boat. Booking online is easy and, if you bring your own tank, they fill it before you leave."
TANKS
You'll most likely dive with LP Steel 85s, but on our 6-pack trips, we use AL 80s. If you have any special tank preferences, we recommend bringing your own. Our main boat, the Humboldt, features an air compressor so you can refill tanks onboard.
WEIGHTS
Don't worry about loading any extra heavy gear. We have plenty of 2, 3, 4, and 5 pounds lead weights and a handful of weigh belts onboard. Our crew will be happy to help you calculate weighting with our tanks and 7mm wetsuits if needed.
LIGHT FOOD
If you suffer from post-dive scuba diver starve, you'll surely appreciate the complimentary soups, fruits, pastries, oatmeal, and snacks we have onboard. In case of any dietary restrictions, feel free to bring your own snacks.
BEVERAGES
We also want to keep you hydrated throughout your trip with our complimentary water, coffee, and tea options. Please bring your own water bottle to minimize waste.
QUALIFIED CREW
You'll soon understand why the majority of our reviews mention the word 'crew'. Our captains and divemasters, who stay onboard to guarantee help is always available when needed, are trained to treat you like family.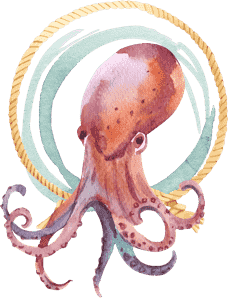 6 PEOPLE OR MORE?
A private charter on one of our boats might be the most affordable and flexible option for you.