50° to 58°F / 10° to 14°C
7mm wetsuit or drysuit + hood, booties, gloves
Year-round
⭐️ Best: late fall & winter 
Boat only (private or commercial)
Giant Sea Bass, Red Gorgonian, Lingcod, Barred Sand Bass, Giant Spined Sea Star,  Blacksmiths, California Spiny Lobster
Wreck Alley, San Diego's scuba diving collection of ship-and-other-wrecks became worldwide famous for being:
Large - West Coast's biggest assembly of artificially sunken ships
Accessible - 15 min boat ride from Mission Bay channel
Rich - full of colorful gorgonians and strawberry anemones
Versatile - wrecks start at 60 ft so open water divers are welcome 
The ease of access combined with the typical sunny and light-winded San Diego weather make Wreck Alley scuba diving accessible year round.
Nutrient-rich, coldwater currents keep the area full of life. You can find the smallest of nudibranch species and a few minutes later pass by a giant seabass the size of a Volkswagen Bug!
If your into wreck diving or want to increase your knowledge of new underwater environments, diving Wreck Alley San Diego is a must.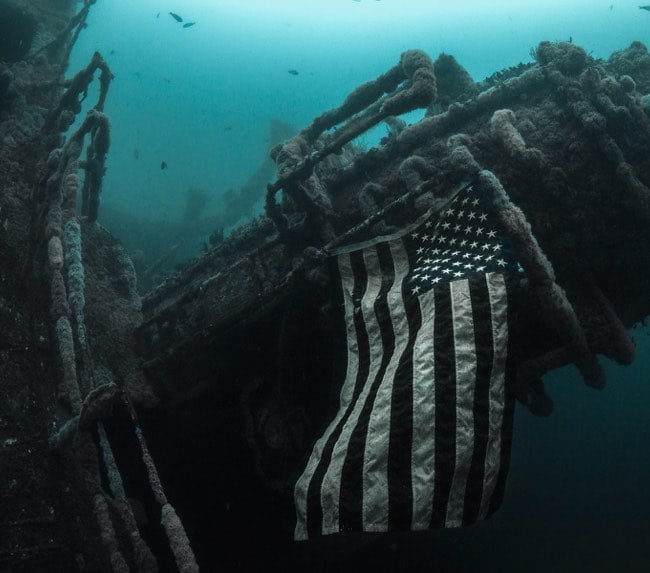 Wreck Alley San Diego map
Where is the Wreck Alley?
Our favorite local wreck sites are right off Mission Bay, on the horizon of Pacific and Mission Beach, and accessible only by boat (like ours).
Some divers call it "Shipwreck Alley", but San Diego Wreck Alley diving offers more than just sunken boats. NOSC Tower and Old Ingraham Street Bridge remains are 2 popular (and shallow) dive sites along the Wreck Alley.
What marine life calls Wreck Alley home?
As the Wreck Alley sits a highway length of sand from the Point Loma Kelp Forests, you'll see similar marine life with some key differences.
These dive sites tend to get more water flow across the sand, so creatures such as giant sea bass, red gorgonian, lingcod, barred sand bass, sea star, blacksmith, and spiny lobster can flourish.
Without the protective structure of kelp and rocky ledges, some creatures like urchins, crabs, sevengill sharks, and garibaldi are rarely seen here.
Video by Storied Treasures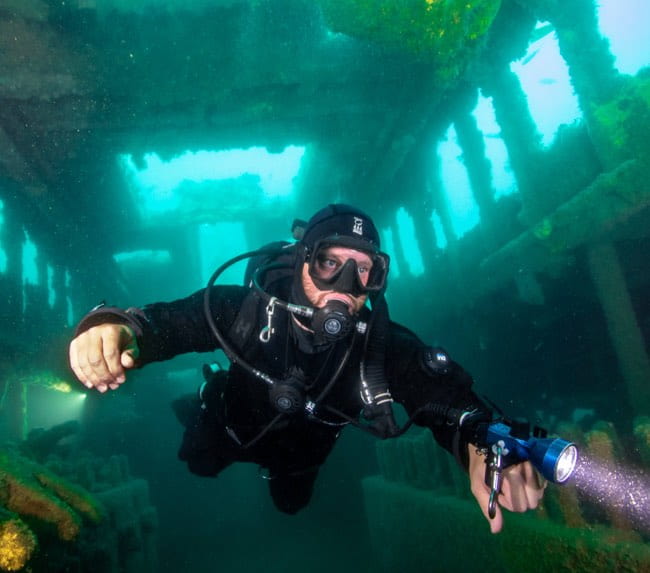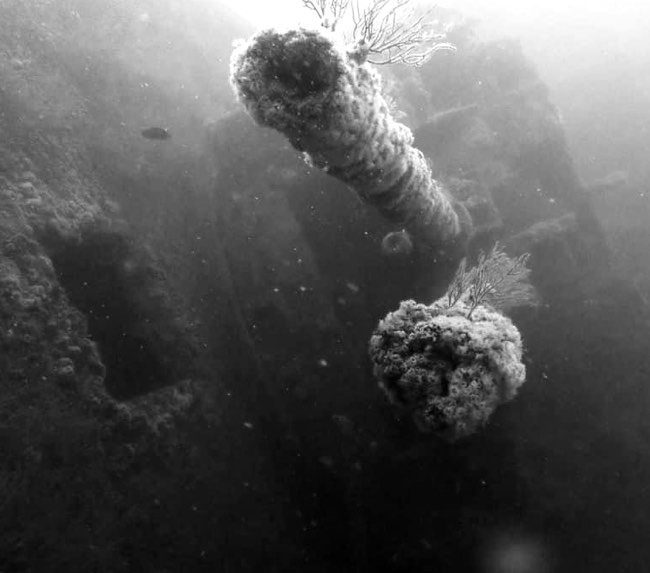 The HMCS Yukon is a 366 ft Canadian destroyer intentionally sunk in 2000 as an artificial reef off Pacific Beach.
The night before the historic sinking, a strong West wind caused the vessel to start taking on water and it sank several hours prematurely.
Many local boats headed out to the site in the morning, hoping to watch the historic event, only to find it had already descended to the bottom, where it still sits in 100 ft under.
Overall, the wreck is in good condition, lying hard over on its port side in the sand.
In 2021, we saw the bridge section collapse into the sand, opening even more real estate for marine inhabitants.
There are several points of interest along the length of the ship, including:
Large forward guns
Wheelhouse
Cutouts in the shape of dolphins
Because the wreck is lying on its side, any penetration into the wreck can be disorienting and unsafe to the untrained diver.
Also because of the recent collapse, you will find new entanglement hazards which were not there before.
For the experienced diver, Yukon stands as one of the best wreck dives on the entire West Coast.
One of the largest SoCal diveable shipwrecks with plentiful schooling fish and colorful gorgonians, HMCS Yukon is a must for advanced and wreck divers.
The Ruby E, originally used by the US Coast Guard as a prohibition enforcer, is a 165 ft cutter vessel.
Intentionally sunk in 1989, the Ruby E has become a fully thriving reef, filled with creatures you may not see at other wreck diving sites. It's not uncommon to find lingcod hiding within the wreck, or even halibut down in the sand, waiting on an easy meal.
This wreck sits slightly shallower than the Yukon, so you can enjoy her anemone-covered decks even longer. Make sure not to miss the strawberry anemones on the wheelhouse or the propeller shaft, down in the sand.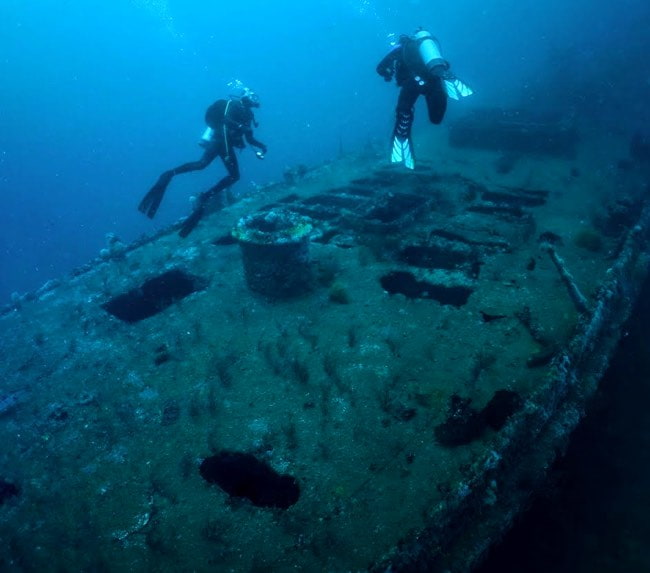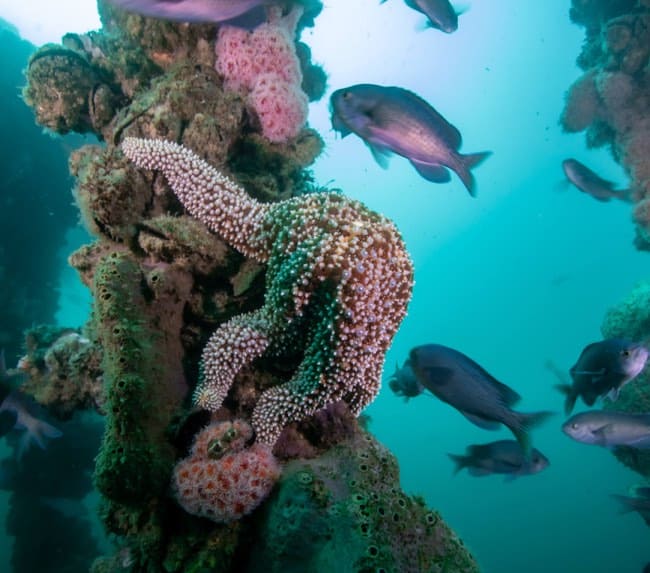 Labeled as an 'underwater jungle gym', NOSC Tower is a unique dive site. During the 60's and 70's, the tower operated as a research facility standing over 100 ft tall.
After a large winter storm in 1988, the tower had all but disappeared. Most of the top structure was never found, but the underwater support beams still stand, covered with marine life. The main structure is 40 ft square at its base, with pieces of the structure strewn about its sides.
Most of the metal structure is covered in scallops, mussels, and other stationary creatures. Kelp bass and blacksmith roam throughout the superstructure, occasionally in large schools.
This is a favorite dive site for small private charters, given the small size of the wreck. We challenge you to spot a scorpionfish camouflaged within the wreck or even a giant sea bass looking for his next meal.
Old Ingraham Street Bridge
Sunk as the newest addition to San Diego's Wreck Alley in 1992, the rubble from the deconstruction of the Ingraham Street Bridge is a one-of-a-kind artificial reef.
Concrete blocks and slabs from the bridge criss-cross on top of each other over an area of roughly a quarter mile, with plenty of room for lobsters and eels to hide and healthy gorgonians to thrive.
With a mix of sandy terrain and large scattered square blocks, this is an easy-to-navigate and unconventional San Diego dive site. 
Intentionally sunk in 1987, the El Rey's original day job was to harvest kelp, a lucrative business at the time. She now works as a colorful wreck dive site with mostly undisturbed red gorgonians across her deck.
Although the El Rey wreck has less relief than its Wreck Alley counterparts, you'll still find a considerable amount of marine life. Barred sand bass occasionally number in the thousands above this wreck!
Wrecks Outside of Wreck Alley
Outside Wreck Alley's man-made borders live other diveable wrecks such as:
Train Wheels in the

Point Loma

area
USS Hogan in the Point Loma area
Missile Tower in the Point Loma area
S-37 Submarine in the Point Loma area
P-38 in the

La Jolla

area
Aside from Train Wheels, we don't venture to these wrecks as they're all past recreational diving limits.
You'll love the Wreck Alley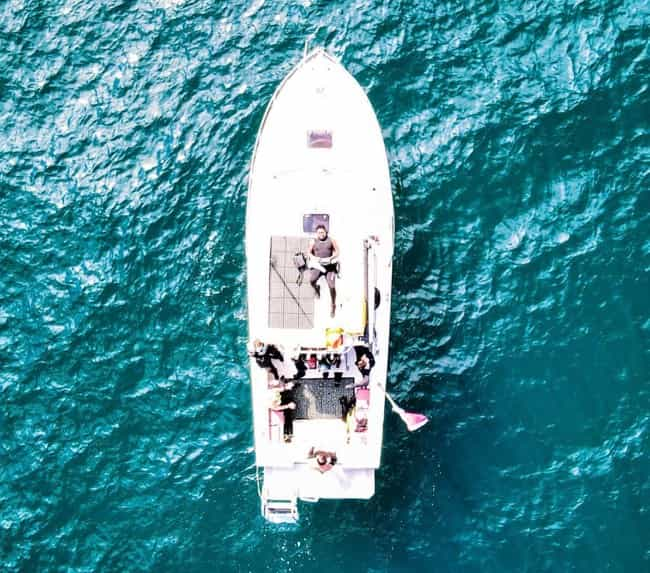 Our dock is 15-min away from the Wreck Alley and our two dive boats make weekly trips to these popular wreck diving sites. We'll take you there.
YOU MIGHT ALSO WANT TO DIVE: