A San Diego dive site for you...
From shallow sandy bottoms to deep submarine canyons, San Diego dive sites are as varied as the Pacific Ocean biodiversity. The general areas of Wreck Alley, La Jolla & Point Loma Kelp Beds, and Coronado Islands (in Mexico) are our main local gems.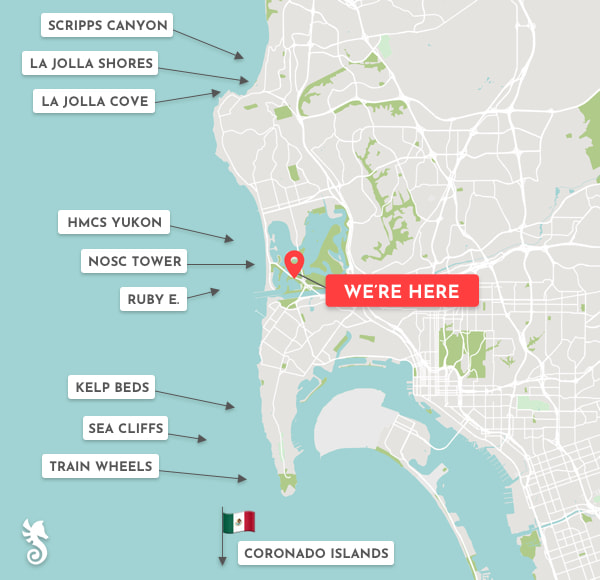 ALL LEVELS
(< 60 ft)
Coronado Islands

Point Loma Kelp Beds

NOSC Tower

La Jolla Cove


La Jolla Shores

Old Ingraham St. Bridge
ADVANCED & UP
(80 ft - 110 ft)
HMCS Yukon




Point Loma Sea Cliffs

El Rey

Ruby E.

Scripps Canyon


Train Wheels
INTERESTED ON A DIVE SITE BEYOND YOUR SKILL LEVEL?
We require you to be part of a class with a certified scuba instructor to join an advanced trip as a novice diver.
Diving Conditions
San Diego diving conditions change daily, if not hourly. Fall is the best time of year to dive locally. Here's an average of our conditions, by season:
| INFO | WINTER | SPRING | SUMMER | FALL |
| --- | --- | --- | --- | --- |
| Surface temp | 58° - 60° F | 58° - 64° F | 62° - 73° F | 61° - 68° F |
| Depth temp | 50° - 55° F | 46° - 50° F | 52° - 56° F | 55° - 60° F |
| San Diego viz | 15 -30 ft | 10 - 15 ft | 15 - 30 ft | 20 - 60 ft |
| Coronado isl. viz | 30 - 70 ft | 30 - 50 ft | 30 - 60 ft | 50 - 100 ft |

Select one of the options below or scroll down to learn about all the dive sites we go to*:
The Mexican Coronado Islands are located about 20 nautical miles from Mission Bay and offer great diving for all experience levels. Home to an abundance of marine life including sea lions, harbor seals, horn sharks, and eels, the islands also serve as a migratory bird sanctuary.
Some say it's one of the best places to swim and photograph California sea lions. Other notable species include fine-scaled triggerfish, sea hares, and a variety of SoCal inshore reef fish.
Dive conditions are usually much better than local San Diego, with visibility reaching between 60 ft to 80 ft in the stellar fall months. Join us for a day trip to Mexico and be back home in time for dinner!
HMCS YUKON
On a quiet summer night in 2000, the HMCS Yukon prematurely sunk off the coast to later become a major attraction of the famous San Diego Wreck Alley.
The 366 ft Canadian destroyer now sits hard on its port side, between 65 ft and 105 ft underwater. The massive wreck is blanketed in multi-colored strawberry anemones, schooling reef fish, and surging kelp.
The Yukon is a popular wreck training site with a variety of swim-throughs and wreck penetration opportunities. It's the most accessible and intact wreck found on the California coast and it's located only 15 minutes away from our shop!
Video by Christopher Bueno
RUBY E.
The Ruby E., a 166 ft Coast Guard cutter originally designed to enforce the Prohibition, was intentionally sunk off San Diego's coast in 1988.
Inhabited by a variety of easily-spotted nudibranchs, it has become a popular local macro diving site amongst underwater photographers. Its strawberry anemone-covered structures provide the perfect shelter for schooling half-moons and blacksmiths.
Lying upright in about 80 ft of water, the weathered wreck shows signs of substantial collapse in its structure and, for that reason, swim-throughs and penetration are not advised.
NOSC TOWER
Before being toppled by a large storm in 1988, the NOSC Tower, or Naval Ocean Systems Center, served as a research installation right off Mission Bay.
Now it sits in about 55 ft underwater, with some of its beams coming up to about 30 ft. Because of its twisted steel structure, divers compare this site to a "Jungle Gym" or a small oil rig.
Marine life is clustered all over the support beams, which attract a large quantity of California inshore reef fish species. It is not uncommon to see giant sea stars or even a black sea bass or two on this site.
POINT LOMA KELP BEDS
Point Loma is known for having one of the largest and healthiest kelp forest extensions of the whole Southern California coastline.
The luscious kelp canopies tower over big boulders, overhangs, ledges, and cracks, creating the perfect environment for a diversity of marine life to call home. Giant sea basses, sevengill sharks, and guitarfish are common sightings in the area.
Spot specific trips are hard to pin down due to dive conditions and other boat traffic - that's why we keep it restricted to a general area. Notable spots include New Hope Rock, 6 Fathoms, Horsehead Reef, Goal Posts, Broomtail Reef, NRAD, and North/South Pipe.
POINT LOMA SEA CLIFFS
During the last ice age, when the sea level was 100 ft lower, the "Ancient Sea Cliffs" were battered and carved by the relentless waves and tides of the ocean.
Nowadays, these cliffs lie between 65 ft and 110 ft underwater, and create slot canyons, large overhangs, and other dramatic features that awe even the most seasoned divers. At some of the sites, the kelp line is within a short swim of the walls, which makes this area even more special.
Spot specific trips are hard to pin down due to dive conditions and other boat traffic - that's why we keep it restricted to a general area. Notable spots include Three Fingers, Main Wall, Dyno Head, and Ancient Sea Cliffs.
Video by Jackie Patay (second dive site is on the Point Loma Kelp Beds area)
TRAIN WHEELS
This dive site, located about 1.3 nautical miles from the Point Loma lighthouse, is named after a random set of train wheels lying around the vicinity of the site.
With its sandy bottom lying at 100 ft deep and its reefy top at about 60 ft, this site's rocky walls are carved into three main canyons. Encrusted with a large variety of invertebrates and algae, one of the caverns houses a swim-through wide enough for divers to penetrate one at a time.
We base most of our trips to this site on the tides, as this site is vastly affected by the tidal flow from San Diego Bay.
Boat trips to this dive site are rare as they require perfect tidal conditions.
LA JOLLA COVE
La Jolla Kelp Beds, widely known as 'La Jolla Cove', is the most popular diving area of San Diego. Its appeal resides on the fact that most of its best dive sites are within swimming distance from the beach. Usually reached by an effortful swim from the shore, you'll feel lucky diving this site from a boat.
The accessibility, combined with the protected marine population and the California staple kelp forests, explains La Jolla's popularity. It's not rare to encounter sea lions and even small sharks while diving there.
Being the most accessible dive site in town, you'll likely notice more human presence here than in any other dive site.
SCRIPPS CANYON
Scripps Canyon is a submarine canyon located north of the Scripps Pier in La Jolla, right offshore the famous surf break Blacks Beach.
The canyon starts around 75 ft and goes deeper from there, well beyond recreational scuba diving limits. This site offers great wall diving, so good buoyancy control is a must. Some highlighted marine life in this area include swell sharks, nudibranchs, and vermillion rockfish.
Although accessible by shore, very few attempt the strenuous task of getting to and from this dive site. Diving it off a boat is definitely a treat.
Boat trips to this dive site are rare.
Video by San Diego Zoo Kids
LA JOLLA SHORES (CANYON)
La Jolla Canyon is the training grounds of all newly certified divers in San Diego.
The area transitions from a sandy flat environment with scattered sand dollar beds to a submarine canyon of terraced cliffs, perfect for practicing buoyancy skills.
Crabs, rays, small fish, and invertebrate species are the site's main attractions. This site is known to be one of San Diego's best night dive sites.
LA JOLLA Shores (MARINE ROOM)
Located at the southern end of La Jolla Shores, Marine Room is a shallow reef booming with marine life.
The deepest part of the reef is about 25 ft on high tide, but the amount of fish and life in the shallows are not to be underestimated.
You can spot horn sharks, spiny lobster, garibaldi, calico bass, and a sea turtle or two if you're lucky.
*San Diego has other dive sites not listed here. These are our favorites ones and where we schedule trips to.
| Interest | Dive site |
| --- | --- |
| Big mammals | Coronado Islands |
| Shipwreck | HMCS Yukon |
| Kelp forest | Point Loma Kelp Beds |
| Macro-photography | Point Loma Sea Cliffs |
| Canyon Diving | Scripps Canyon |