(and ready to safely get you back in the water)
The following policies were developed put in place to guarantee the safety of our customers and crew members:
HAND SANITIZING ETIQUETTE
Crew and customers pledge to disinfect their hands often and thoroughly with soap and water (or alcohol-based hand sanitizer as an alternative).
EMERGENCY-ONLY PHYSICAL CONTACT
Crew and customers pledge to only approach others closer than 6 feet when absolutely necessary for the activity at hand or if it's an emergency.
ADAPTED BOAT & SHOP PRACTICES
Crew and customers pledge to respect the new shop and boat practices, always keeping their distance from other households and avoiding touching anything that's not essential.
LIFE-SAVING PROTECTIVE EQUIPMENT
Crew and customers pledge to wear face coverings at all times when not in their scuba gear both at the shop and aboard the boats.
TRANSPARENT SYMPTOM REPORTING
Crew and customers pledge to communicate with the management if they, their household members, or people
around them appear to be having any COVID-19 symptoms.
HABITUAL CLEANING & SANITATION
Crew and customers pledge responsibility for their personal and scuba gear cleanliness. Crew pledges to follow sanitation procedures and schedule precisely.
THE BASICS 
Stay at home if you have COVID-19 symptoms
Wash hands regularly with soap and water (or use 60% alcohol-based hand sanitizer)
Maintain a social distance of at least 6 feet and avoid direct contact with other people
THE SPECIFICS
Wear a cloth face-covering AT ALL TIMES (take it off only before getting in the water)
Leave all non-essential gear and personal items on the dock
Pay using a credit card and tip through Venmo instead of using cash
Stay away from alcohol-based sanitizer if renting Nitrox
Refrain from touching tank valves and regulator inlets (the crew will do that for you)
Avoid orally inflating rental BCDs unless it's an emergency
Don't spit on your mask until you're in the water
Resist touching anyone else's gear unless it's an emergency
SCUBA GEAR SANITATION
Check manufacturer's instructions and recommendations first
Soak gear for 15 minutes on a solution of ⅓ cup of 1% bleach to 1 gal of water
Rinse completely with fresh water
⚠️ Refrain from using soapy water to wash your gear as this must be combined with mechanical action to be effective against coronavirus ⚠️
WORK ETHICS
Crew won't come to work if they or someone in their household has COVID-19 symptoms
Crew will measure their temperature upon arrival and register it on our company app
Crew will let the management know about customers or crewmembers experiencing symptoms
PERSONAL PROTECTIVE EQUIPMENT
Crew will wear a protective face covering AT ALL TIMES
Crew will wash or sanitize their hands after customer interactions (gear, tanks, etc.)
Crew will wear gloves when cleaning surfaces and gear
CODE OF CONDUCT
Crew won't engage in physical contact with customers unless requested or an emergency
Crew will ask politely before touching anything that belongs to a customer
Crew will explain new COVID-19 Protocol to customers in a clear and effective manner
⚠️ Never use alcohol-based hand sanitizer near enriched air (fill stations Nitrox tanks, or O2 bottles) ⚠️
SHOP
Only one household is allowed inside for check-in, logbook stamps, questions, etc.
Air & Nitrox fills can be made by appointment or one household at a time (walk-ins)
Merchandise must be purchased with a credit card (no cash transactions)
THE SPECIFICS
One household at a time to board the boat, grab weights, and step on the swim platform
Boat charters will not include food or beverages
Mask rinse buckets will not be provided
SCUBA GEAR
Customers should care for their personal gear at home before and after trips
Regulators must be rented with a purchase of a personal mouthpiece
Rented gear shouldn't be tried on unless strictly needed (if tried on, it'll be washed)
⚠️ Be considerate of others around you, even if you disagree with social distancing protocols ⚠️
PROPER DISINFECTION - SURFACES
Make sure soap spray, 1% bleach spray, disposable gloves, and wipes are in stock
Clean frequently touched surfaces with soap as per schedule
Disinfect frequently touched surfaces as per schedule
PROPER DISINFECTION - RENTAL GEAR
Refill rinse buckets with soap and 1% bleach (⅓ cup for 1 gal of water) before rinsing
Let gear sit for 15 minutes on the mixture
Rinse gear with freshwater completely and hang to dry
DISINFECTION SCHEDULE
Boats: 4x per trip (once before, twice during, once after)
Shop: 3x per day (opening, trip changeover, closing)
Rental Gear: 1x per day (end of the day)
⚠️Give masks, snorkels, regulators, and BCD oral inflators a special disinfection attention ⚠️
SUMMER & FALL SCHEDULE
The combination of craving divers, postponed private charters, and reduced load trips made July and August our busiest months ever. Snag your spots sooner than later if you can. 
Thank you for any type of support you have shown ours and other small businesses through these difficult times. You rock!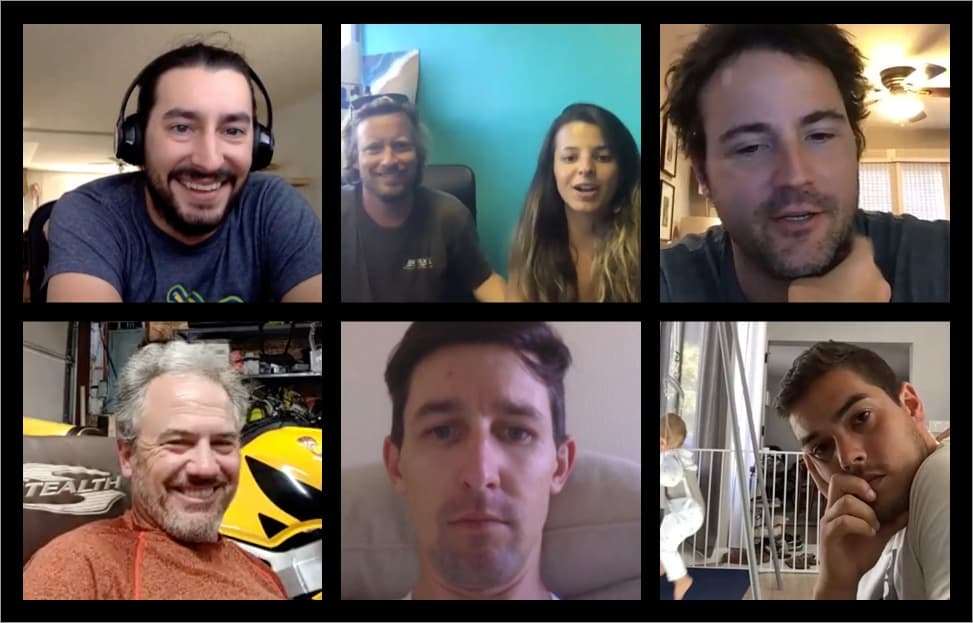 Snapshot of our COVID-19 Protocol crew web conference in May 20th, 2020. 
While we wish none of this was necessary, the health of our customers and crew is our utmost priority.
THANK YOU FOR STICKING WITH US!